Iconic Architecture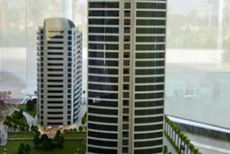 The master plan effectively transforms dynamic lines of the rivulets emptying into the Arabian Sea and the wind-carved shores into naturally-inspired architecture which finds its robust structure dipped in natural purity. Developing the compelling forms of the towers from the local landscape, the mega project serves as an emblem of uniqueness. Notwithstanding top-of-the-line international contemporary architecture, the design subtly maintains sensitivity to local climate, geography and culture to provide unmatched sustainability.
Comprising wide, full-height and double-height terraces, life-size windows and temperature-sensitive screens, the towers crown your life with unparalleled proximity with nature's finest.

Experience an architectural marvel as you stroll down The Arkadians' mesmerizing walk – a purpose-built pathway designed as a mirror image of the very waves surrounding your unique home.